Friday Lart – All The Themes
Ryan Costello | May 12, 2023
Good news, good news, everyone!
The good news is that the DeSouzas met their MS Society fundraiser goal! That's another $10 000 they've raised for multiple sclerosis research, an impressive feat they've accomplished annually for years.
But the good news is that the fundraiser isn't over! If you want a custom avatar by our own Lar deSouza, they're still available until the end of the month.
What's The Theme Again?
Yes!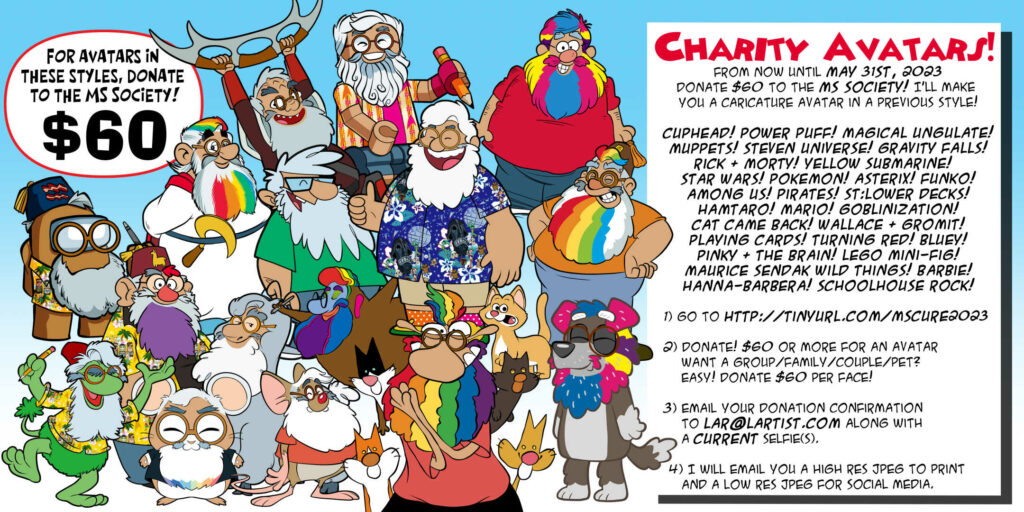 You can get a caricature avatar in any style Lar ever offered. That includes:
Aardman (Wallace & Gromit)
Among Us
Animal Crossing
Animals/Pets as fantasy adventurers
Asterix & Obelix
Barbie
Bluey
Cat Came Back
CupHead/1920s animated
Dr Seuss
Funko Pop
Goblin/cyberpunk (I can't remember the name of the RPG)
Gravity Falls
Hamtaro
Hanna Barbera
Harvey Comics
Lego Mini Figs
Magical Ungulates (MLP:FiM)
Marioverse
Munchkin
Muppets & Fraggles
Pinky and the Brain
Pirates
Playing cards
Pokemon
Popeye
PowerPuff/Citizens of Townsville
Rick & Morty
Schoolhouse Rock
ST: Lower Decks
Star Wars
Steven Universe/Beach City Residents
Turning Red Pandas
Where the Wild Things Are
Yellow Submarine
Also, three seasonal Christmas themes:
Gingerbread Cookies
Nutcrackers
Rankin Bass Christmas specials
And two Hallowe'en themes:
Shrunken heads
Universal Movie Monsters
In exchange for donating to this worthy cause, Lar will draw you or a loved one in any of the listed styles.
Here's How:
From now until May 31st, 2023, if you donate $60 to the MS Society, plus $60 for every additional face you want in the picture, Lar will make you a caricature avatar in the style of your choice.
Here's what you need to do:
Go here.
Donate $60 or more for an avatar, plus $60 for every extra face.
Email your donation confirmation to la[email protected] along with a current selfie and any requests.
Lar will email you a high res JPEG to print and a low res jpeg for social media.
Now you know,
Costello