Friday Lart – Lar Will School You
Ryan Costello | March 24, 2023
As usual, when I sit down to write these posts promoting the DeSouzas' MS Society fundraising, I try to come up with a clever title and a few paragraphs of witty writing worthy of your time. But sometimes I come up with a title so clever, I'm at a loss for what to say next.
Lar Will School You as the title for a post about Lar creating Schoolhouse Rock caricatures? It's perfect. It's too perfect! Nothing I follow it with will top it.
Speaking of Lar creating Schoolhouse Rock caricatures: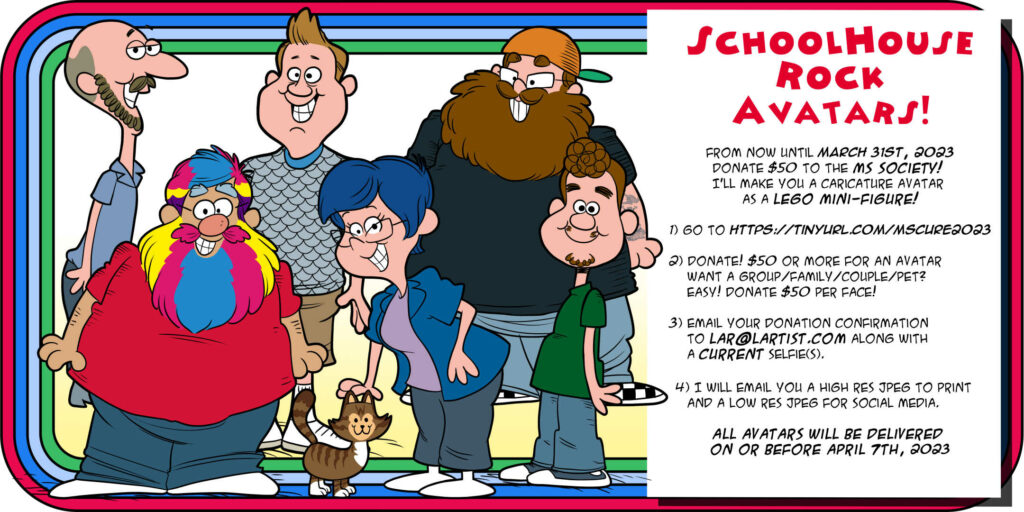 What You Need To Know:
From now until April 7th, 2023, if you donate $50 to the MS Society, plus $50 for every additional face you want in the picture, Lar will make you a Schoolhouse Rock caricature avatar with your choice of details.
Here's what you need to do:
Go here.
Donate $50 or more for an avatar, plus $50 for every extra face.
Email your donation confirmation to la[email protected] along with a current selfie and any requests.
Lar will email you a high res JPEG to print and a low res jpeg for social media.
Act now! You have to donate by the end of April 7th to get an avatar in the style of Schoolhouse Rock.
Now you know,
Costello