Friday Lart – Lego of any Hesitation
Ryan Costello | February 17, 2023
Fridays, we open the Larchives, Lar's extensive archive of art work oddities, and share a few pieces.
Last week, we announced that the February theme for the DeSouza's 2023 MS Society fundraising efforts is LEGO Mini-Figures.
"A LEGO caricature?" the skeptics in the audience might be saying. "Caricaturism exaggerates a person's features. Minifigs don't even have noses. How is this supposed to work? How? Just, how?!"
OK, one, calm down.
And two, behold!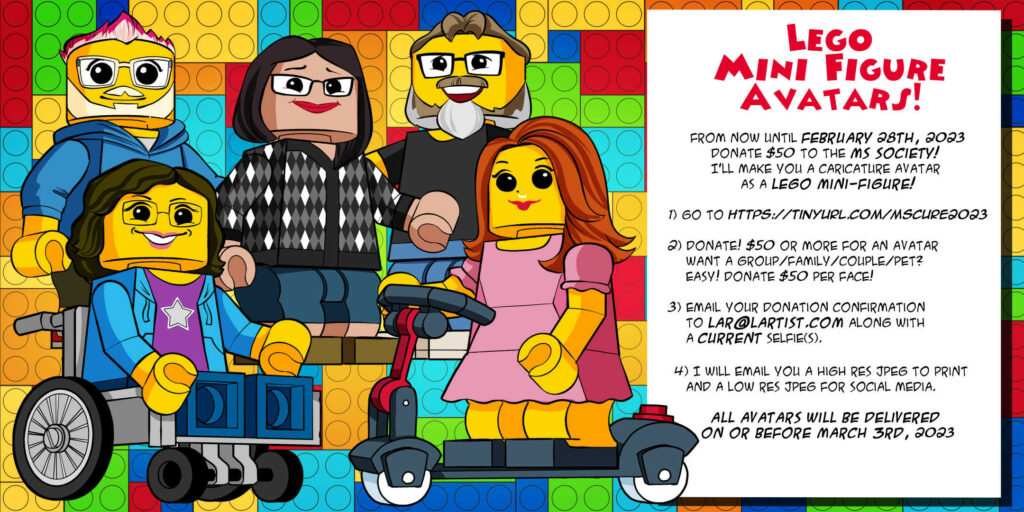 Are you telling me you wouldn't immediately recognize these people if you saw them on the street? Of course you would! Lar perfectly captured the essence of each of these fans, who all generously donated to his fundraiser. And he can capture you too!
Here's How:
From now until March 3rd, 2023, if you donate $50 to the MS Society, plus $50 for every additional face you want in the picture, Lar will make you a LEGO Mini-Figure caricature avatar with your choice of details.
Here's what you need to do:
Go here.
Donate $50 or more for an avatar, plus $50 for every extra face.
Email your donation confirmation to la[email protected] along with a current selfie and any requests.
Lar will email you a high res JPEG to print and a low res jpeg for social media.
Act now! You have to donate by the end of March 3rd to get an avatar in the style of a LEGO Mini-Figure.