Friday Lart – The Best Of Bluey
Ryan Costello | April 21, 2023
When Australian re-
Sorry, as I typed "Australian", my office mate Greg said "Australian" and it caused my brain to reboot.
When Australian reader Tegan Hutchison saw Lar's latest charity avatar theme for the DeSouza MS Society fundraiser, she wrote "Bluey is our greatest export, sorry Hugh Jackman. So happy to hear you guys love it too. Do you have a favourite ep?"
Of course I do!
Smoochy Kiss
In the Season 3 episode Smoochy Kiss, Bluey and Bingo overhear their mom, Chilli, complaining that their dad, Bandit, always leaves cupboards open. When Bandit returns from his run, the kids block him from kissing his wife good morning because she doesn't deserve him. This leads to a chase around the house as the kids try to keep Bandit from Chilli. However, the longer the chase goes on, the more the kids realize their dad is pretty gross, and he's lucky to have their mom.
The episode highlights how well Bluey humanizes its characters, especially the parents. I've heard the series was pitched as a series for adults but bought as a show for kids, and I'm not sure series creator Joe Brumm changed his plans to suit the new audience. I can't think of any other show where the dad pees on his foot and it's presented as relatable content instead of a joke at the character's expense.
Sleepytime
And you can't talk about Bluey episodes without bringing up Sleepytime. It's 9.8 user rating on IMDb puts it tied or 3rd on the site's list of top user-rated TV episodes, alongside shows like Breaking Bad and Six Feet Under.
Sleepytime is as known for its beautiful animation as well as its touching storytelling. After Bluey's sister Bingo promises to have "a big girl night" and stay in her own bed, we cut back and forth between her dream of journeying through space with her stuffy, and the antics going on deep into the night at the Heeler's house.
No plot summary does justice to the combination of quality animation during the dream scenes, the majestic score, and the stellar (heh, space pun) performances by the cast.
But enough about Bluey, the series. Let's talk Bluey, the charity avatar theme!
Bluey!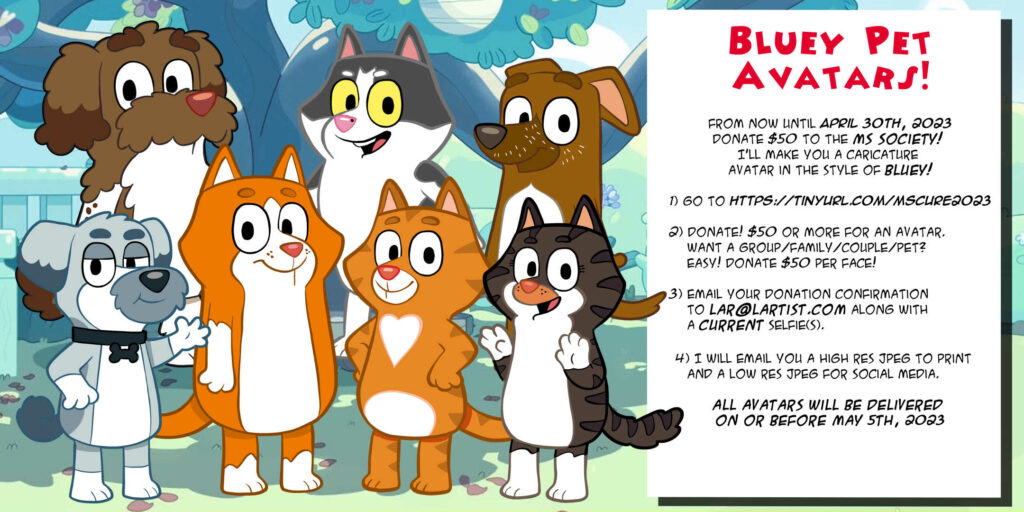 In exchange for donating to this worthy cause, Lar will draw you, a loved one, or beloved pet in the style of a Bluey character. Originally he announced that he would draw a Bluey caricature of your pet, but he extended that to either pets or humans.
Here's How:
From now until May 5th, 2023, if you donate $50 to the MS Society, plus $50 for every additional face you want in the picture, Lar will make you a Bluey caricature avatar with your choice of details.
Here's what you need to do:
Go here.
Donate $50 or more for an avatar, plus $50 for every extra face.
Email your donation confirmation to la[email protected] along with a current selfie and any requests.
Lar will email you a high res JPEG to print and a low res jpeg for social media.
If you're on the fence, it's because you haven't watched Bluey, something you need to correct immediately!
Now you know,
Costello