Friday Lart – Mini Figs, Big Help
Ryan Costello | February 10, 2023
Fridays, we open the Larchives, Lar's extensive archive of art work oddities, and share a few pieces.
Like LEGO bricks in a LEGO wall, you and Lar can support one another. That's because Lar picked LEGO Mini-Figures as the latest theme for the DeSouzas' 2023 MS Society fundraising efforts.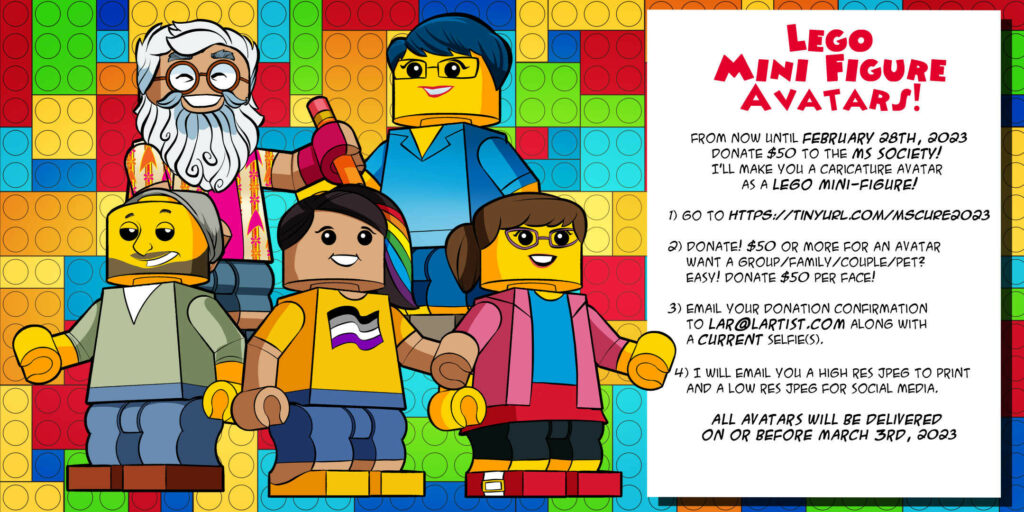 Here's How You Can Help:
From now until March 3rd, 2023, if you donate $50, plus $50 for every additional face in the picture, to the MS Society, Lar will make you a LEGO Mini-Figure caricature avatar with your choice of details.
Here's what you need to do:
Go here.
Donate $50 or more for an avatar, plus $50 for every extra face.
Email your donation confirmation to [email protected] along with a current selfie and any requests, including what theme you'd like.
Lar will email you a high res JPEG to print and a low res jpeg for social media.
Act now! You have to donate by the end of March 3rd to get an avatar in the style of a LEGO Mini-Figure.