Random Review – WWE #19
Ryan Costello | January 27, 2020
Most of my comic-related random reviews will be older comics that have been sitting on my bedside table for a year. Today's an exception. The other day, Moss dropped a copy of Boom's WWE #19 on my lap, and it was quickly consumed.
In 2017, comic publisher BOOM! Studios published their first comic based on the World Wrestling Federation. The premise was that each arc would take a famous WWE storyline from the previous few years and retell it, intercutting scenes of what happened in the ring with new scenes that flesh out the story from the perspective of one or two characters involved in the story.
I read the first issue and it really wasn't for me. The writing and art were fine, good even, but not good enough to make the strange concept work. But I gave it another shot when I saw who the subjects of issue 19 were: Kevin Owens and Sami Zayn.
Steen and Generico
I became a WWE fan at what I later learned most people consider the company's lowest point: 1993. If someone who is only vaguely aware of wrestling named the first 5 wrestlers that came to mind, odds are most of them would be WWE wrestlers from before 1993 or after 1996. At least this meant I was in on the ground floor for the arrival of "Stone Cold" Steve Austin and The Rock. By the early 2000s, though, I was ready for an alternative.
My friend Jon checked out a local independent wrestling promotion with a lot of buzz about it, the IWS. Our wrestling fandom changed forever. Every wrestler, young and hungry with something to prove, took greater risks and displayed unexpected athleticism. After the glow of newness wore off, a few standouts emerged, chief among them Kevin Steen and El Generico.
Both of these local wrestlers brought something new to every match they wrestled. They told engaging stories in the ring. You could love Steen as a performer and lose yourself in hating the character he was performing. El Generico was clearly a joke by design but his ability to garner sympathy elevated him above the gimmick. And their matches together were magical.
Eventually they moved onto the independent wrestling circuit together, were brought into WWE's developmental territory NXT around the same time, and then made it to the main WWE roster around the same time, under their new names.
Owens and Zayn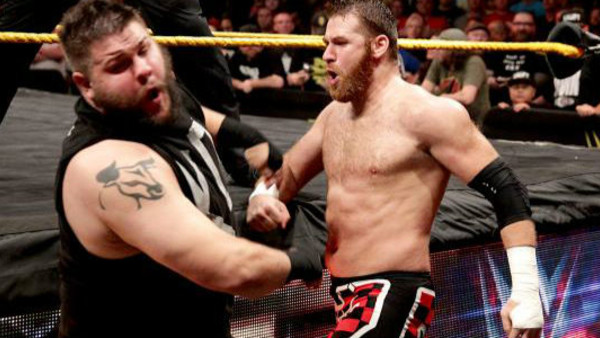 For all the Canadian wrestlers WWE has hired over the years, not many were from Quebec. And if they were, they were usually saddled with the "from Quebec" gimmick (which is the evil foreigner gimmick, but French). So two new Quebec wrestlers being brought in and neither of them limited to a nationality gimmick was huge. On top of that, NXT incorporated their shared history in the indies into their relationship, and then their WWE stories were built on their NXT relationship.
WWE #19 is the story of traditional good guy Sami Zayn choosing his long and complicated history with Kevin Owens over his relationship with the fans. So the backstory of this comic is my last twenty years of being a wrestling fan.
Maybe it's how hard writer Dennis Hopeless and artist Tini Howard worked to create a comic just for me, but I liked this a lot. Let me try to put my biases aside to explain why.
Sami Zayn is what you call a white meat babyface. Babyface being wrestling terminology for the good guys/fan favourites, and white meat meaning emphasis on the good. Unlike Steve Austin and The Rock, who were stubborn, arrogant, and willing to break the rules if you crossed them, Sami held himself to high moral standards. So him turning heel (wrestling terminology for a bad guy) was a big deal, and the fact that he did it out of loyalty to an old friendemy meant this could have been a nuanced storyline.
Instead, Sami came out and gave a full-on heel "you people" promo that was engaging, but felt misdirected given the storyline. It fast tracked him into the heel mould instead of taking the time to explore what they had.
WWE #19 explores what WWE had!
The story opens with Sami Zayn trying to work out in the same gym with his usual gym buddies, only for those gym buddies to reject him now that he can't be trusted.
So Sami is left with no one to hang out with but Kevin Owens, who genuinely appreciated the save, and who proceeds to spew the philosophy that makes him the heel he is.
Sami is considering how Kevin's outlook meshes with his own when a fan asks for an autographed. In a moment that conveyed way more emotion that you'd ever expect from a licensed wrestling comic, the fan's father stealthily condemns Sami for his actions outside of his son's earshot. The father hasn't shown his son his favourite wrestler turning heel yet, so we get this shot of a blissfully ignorant young fan, a confused and frustrated put-upon parent, and a conflicted character at a moral crossroads. Another layer is that in the real world, the actor who plays Sami Zayn is also living with going from a hero to children to someone who doesn't get these positive fan interactions.
I have one criticism, and it's not something I would have ever expected. Because wrestlers are a hybrid of performer and character, they have to sign contracts for a variety of likeness rights. Otherwise their t-shirts and action figures can't resemble their character. Apparently Shane McMahon, real life son of WWE owner Vince McMahon and on screen authority figure, didn't sign away his likeness rights for Boom! to use. But his WWE character is a major player in the storyline this comic is based on. So they use the Shane McMahon character without using performer Shane McMahon's likeness, to bizarre results.
Honestly, even though that's a criticism, the weirdness of how Howard had to overcame this obstacle enhanced my enjoyment of the issue.
The story ends on a cliffhanger (such as it is, being an adaptation of a wrestling storyline), and I couldn't believe that I wanted to track down the next issue. Boom!'s (since canceled) WWE title came a long way from its first issue, and this issue is an amazing character study that shows how wrestling is a viable storytelling medium. For serious.