Marvel Rising: I Just Want To Like You!
Ryan Costello | December 5, 2019
You ever try to get into something only to hit seemingly unrelated obstacle after obstacle?
I love me some Squirrel Girl. Ever since reading Great Lakes Avengers, I was drawn to her plucky optimism and archetypal super hero persona at a time when the Marvel Universe overarching plot was about sad super heroes bickering and grey morality ruling the day. Then Ryan North and Erica Henderson's series came out, cementing Squirrel Girl as one of my favourite Marvel characters.
Naturally, when Marvel announced that Squirrel Girl was on the roster of their new animated team show, Marvel Rising, I was super excited to see it. And nervous, of course. And then…  confused.
It was so hard getting solid information about when I could watch Marvel Rising, what the show's format would be, and where I could watch it. Basic information. At the same time, there were press releases about tie-in comics, and all the toys and authentic Halloween costumes that would be out for fans of the show. Yet I couldn't figure out if the show even would be out by Halloween.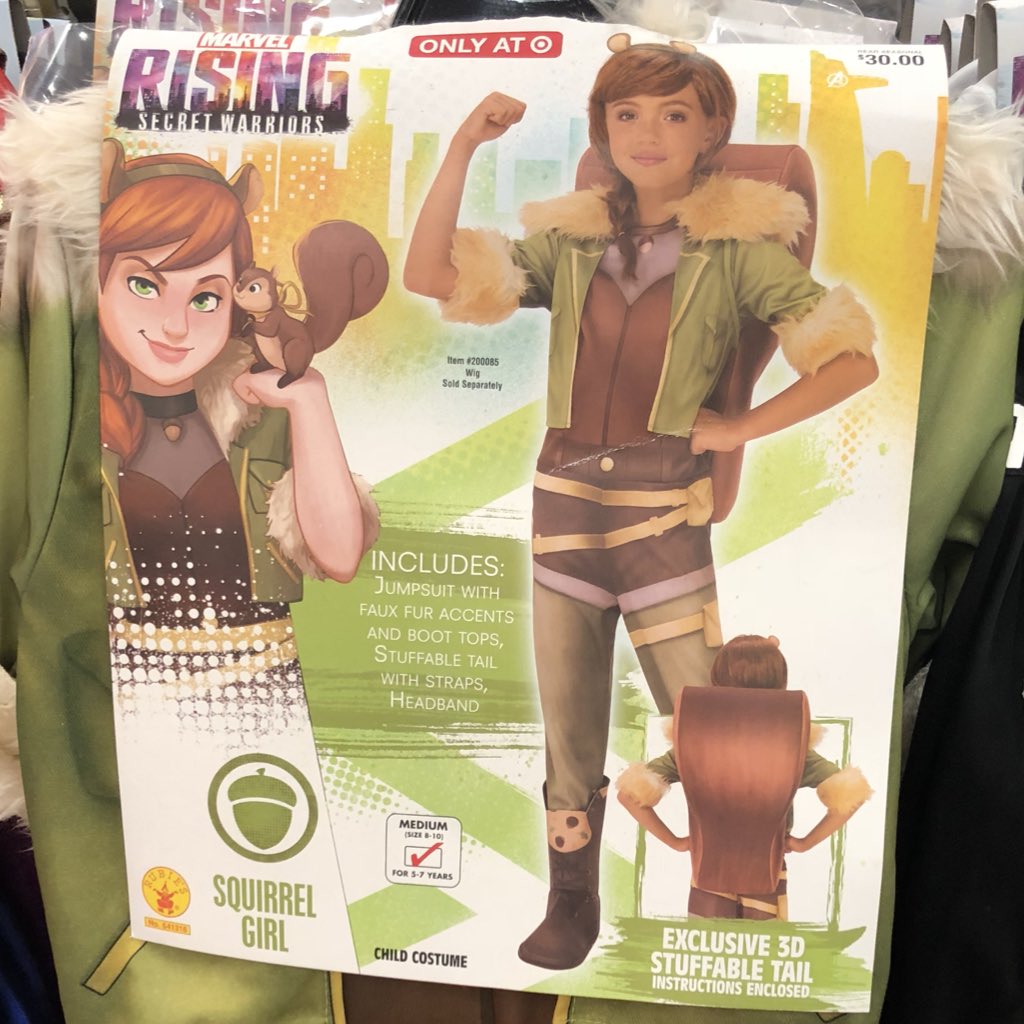 Before I ever saw Marvel Rising onscreen, I came across Marvel Rising Squirrel Girl dolls warming a Target shelf even at liquidation prices. It was my worse case scenario as a Squirrel Girl fan, hoping she would catch on and be this generation's favourite b-list super hero. Instead, she came across as a joke no kid could take seriously without the context letting people know the joke is both the point and just the beginning.
Eventually I did see the… episodes? I was no less confused. What felt like a pilot episode turned out to be a series of shorts edited together and called Initiation. Then instead of more episodes, the adventure continued in a series of TV movies, all of which were on YouTube but not accessible to Canada.
The comics were just as bad. I thought I had added Marvel Rising to my pull list, but it wasn't so easy. To quote Wikipedia: "Each issue had a different subtitle, all numbered issue 1—for example, in June it was Marvel Rising: Alpha issue 1, Marvel Rising: Squirrel Girl & Ms. Marvel issue 1 on August 1, followed shortly thereafter by Marvel Rising: Ms. Marvel & Squirrel Girl issue 1. The series concluded with Marvel Rising: Omega issue 1 on September 12. This was 'criticized as being overly complicated and confusing' by Comics Worth Reading." You said it, Comics Worth Reading.
For those who don't know, if you want a comic, you need to ask for it about three months in advance. If you finish a comic and find a page telling you the story continues in another series next month, you're months late. You have to hope that your friendly local comic shop ordered enough extras for their shelf, and that you get there before everyone else who, y'know, just wants to buy that comic.
I read the issues I had and watched Initiation a few times with my oldest daughter, and then accepted that this was not something I would be able to enjoy without jumping frustrating hurdles. But Marvel Rising keeps crossing my path and tripping me up at the same time.
Perusing Disney+, I saw Marvel Rising recommended based on another show I had searched. "Finally!" I thought. I clicked on it and found there were two specials, including Initiation. I promptly added it to my watch list. Then, because I Liked the Marvel Rising page on Facebook, I saw this ad:
"Oh wow," I thought. "They made a third special." I did a little research and nope, this isn't the third special. It's the sixth. Seventh if you count Initiation. Disney+ just doesn't have anything after Secret Warriors (considered the first special, with Initiation being more like a promotional episode).
I don't understand how a roll out that started so promising could turn out so scattered. It had a toy line! A-list actors! A tie-in comic! Squirrel Girl! It's Disney! And yet even after buying some Marvel Rising comics and subscribing to the producer's streaming service, I have very little to show for it.
I just want to watch some Squirrel Girl cartoons.
An Easer Way To Get Like Something
If you just want to like Least I Could Do, it's never been easier. During the Blind Ferret Shop Blowout, you can get the entire series of books for as little as $2. The only hurdle is knowing that 0 comes before 1!