Protection
Sohmer | May 31, 2017
Protection
Well, hello there friends!
Apologies for my radio silence, but after our spring conventions, I hit the ground running when I returned to the office and haven't really stopped since.
I miss the days when I was blogging every day. It's not that I don't have as much to say, it's just that I don't have the time to say it.
That said, I did have to pop on today to point out some cool new products in ye 'olde LICD shop. We started making these in house a few months ago, and after debuting them at shows, it's time to start selling them to you folks.
If you don't see your model of phone there, there's a place to send an e-mail where we can get you taken care of.
As always, we appreciate your support.
-Because I Can.
Quote of the Day
"Our greatest weakness lies in giving up. The most certain way to succeed is always to try just one more time."
-Thomas Edison
Heading into the weekend!
Lar | May 26, 2017
Happy Memorial Day long weekend to our USA readers!
Summer starts off this long weekend! So put on your shorts, fire up the barbecue and then sit hunched by your computer all evening watching me draw random stuff! There's no mosquitoes inside and I could use the validation of my existence.
I'll be streaming this evening at my usual time and place on Twitch.tv/uncalar from 8pm till midnight ET. The chatroom is full of friendly folks and I do my best to keep up with the conversation while I draw and rant away the evening. Hope you'll make some time to drop by and say hello!
There and Back Again
Sohmer | April 25, 2017
It seems Chicago ended only yesterday, and here I am, once again getting ready to leave town. This time, Lar, Moss, Will and myself are heading for the magical town of 'Calgary'.
We'll be at the Calgary Comic & Entertainment Expo for the duration of the weekend, where you can find us loitering at Booth #725.
If that wasn't enough, we're also doing a panel on the 29th at 3:30 in room Palomino FG. I would suggest attending, as we may decide to show you something that may literally blow your mind. BLOWN.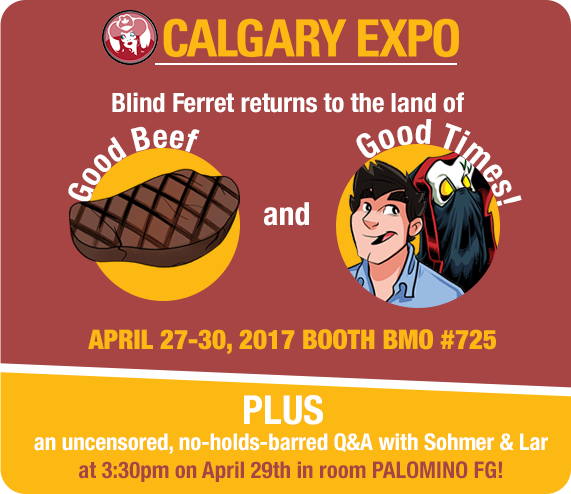 See you in the north, kids.
-Because I Can.