Heading into the weekend!
Lar | May 26, 2017
Happy Memorial Day long weekend to our USA readers!
Summer starts off this long weekend! So put on your shorts, fire up the barbecue and then sit hunched by your computer all evening watching me draw random stuff! There's no mosquitoes inside and I could use the validation of my existence.
I'll be streaming this evening at my usual time and place on Twitch.tv/uncalar from 8pm till midnight ET. The chatroom is full of friendly folks and I do my best to keep up with the conversation while I draw and rant away the evening. Hope you'll make some time to drop by and say hello!
There and Back Again
Sohmer | April 25, 2017
It seems Chicago ended only yesterday, and here I am, once again getting ready to leave town. This time, Lar, Moss, Will and myself are heading for the magical town of 'Calgary'.
We'll be at the Calgary Comic & Entertainment Expo for the duration of the weekend, where you can find us loitering at Booth #725.
If that wasn't enough, we're also doing a panel on the 29th at 3:30 in room Palomino FG. I would suggest attending, as we may decide to show you something that may literally blow your mind. BLOWN.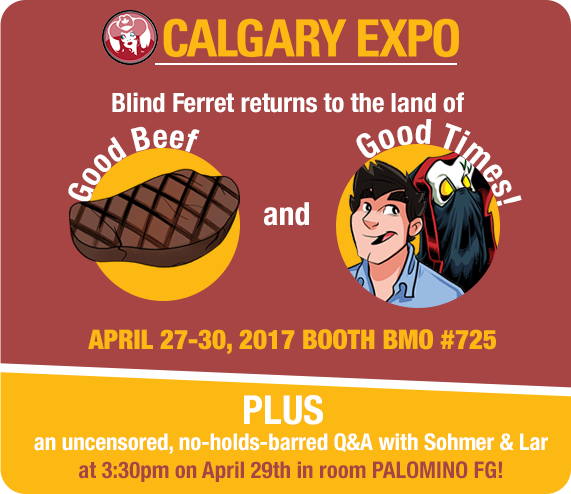 See you in the north, kids.
-Because I Can.
On the Road Again
Sohmer | April 19, 2017
I just got back last night from a Legoland visit with my eldest son, and while I wish I had the time to bask in the glow of brick creation, I'm forced to prepare for another journey.
In less than 24 hours, I'll board a plane bound for Chicago, where Lar, Costello, Stone and myself will be attending C2E2 (I'm sure that stands for something, but I bet it's too long to type).
You can find us at Booth #1453 for the duration of the weekend, where we'll have plenty of fun stuff for you.
In addition, Lar and I are doing a panel on Friday at 11:15am, Room S405b. We will no doubt charm and entertain you.
Hope to see you in the land of the deep dish, folks.
-Because I Can.